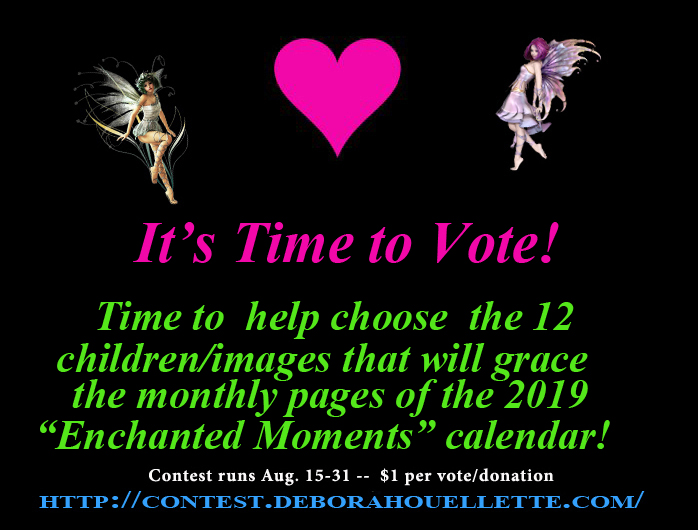 Some quick notes to help you through the process:
You must have a PayPal account to vote/donate in the 2018 "Enchanted Moments" calendar contest/fundraiser. If you don't have an account (and prefer — for whatever reason — not to set one up, you can vote/donate through someone who does have a PayPal account and they can mention your name when they complete the process — there is a place at the end of the voting process where you can add a note to your receipt/donation).
You may vote in multiples of $1 ($1-per-vote). I and the teachers/children who will benefit from your kind generosity will be grateful for every vote, whether it be for $1 or $100 (or anything in between).
To vote, simply click on the right side of the home page of this site where it say's "Vote Now!", then follow the prompts.
IMPORTANT: I hand tally and hand change the vote on and off each day during the 2 weeks the contest/fundraiser runs. There is no live vote so be patience as I will update the contest/fundraiser online tally as often as possible.  ASAP after midnight each day, I will also send an email (to the contest families only) with a daily updated vote tally so they can check to see if there are any over/under votes, etc.
If you have questions during the process, email me at deborahouellettephotography@gmail.com and be sure to check my FB page at https://facebook.com/deborah.ouellette1 regularly for updates on the progress of the contest/fundraiser, our daily "Top 5" (beginning on Aug. 16th), tips on how to get more support for your child during the contest/fundraiser, etc.
Good luck to everyone in the contest/fundraiser and thanks to all for supporting the calendar project.
Will check back in the morning (roughly 9 a.m.) to begin counting votes and updating the vote tally on the contest/fundraiser site.
HUGS!