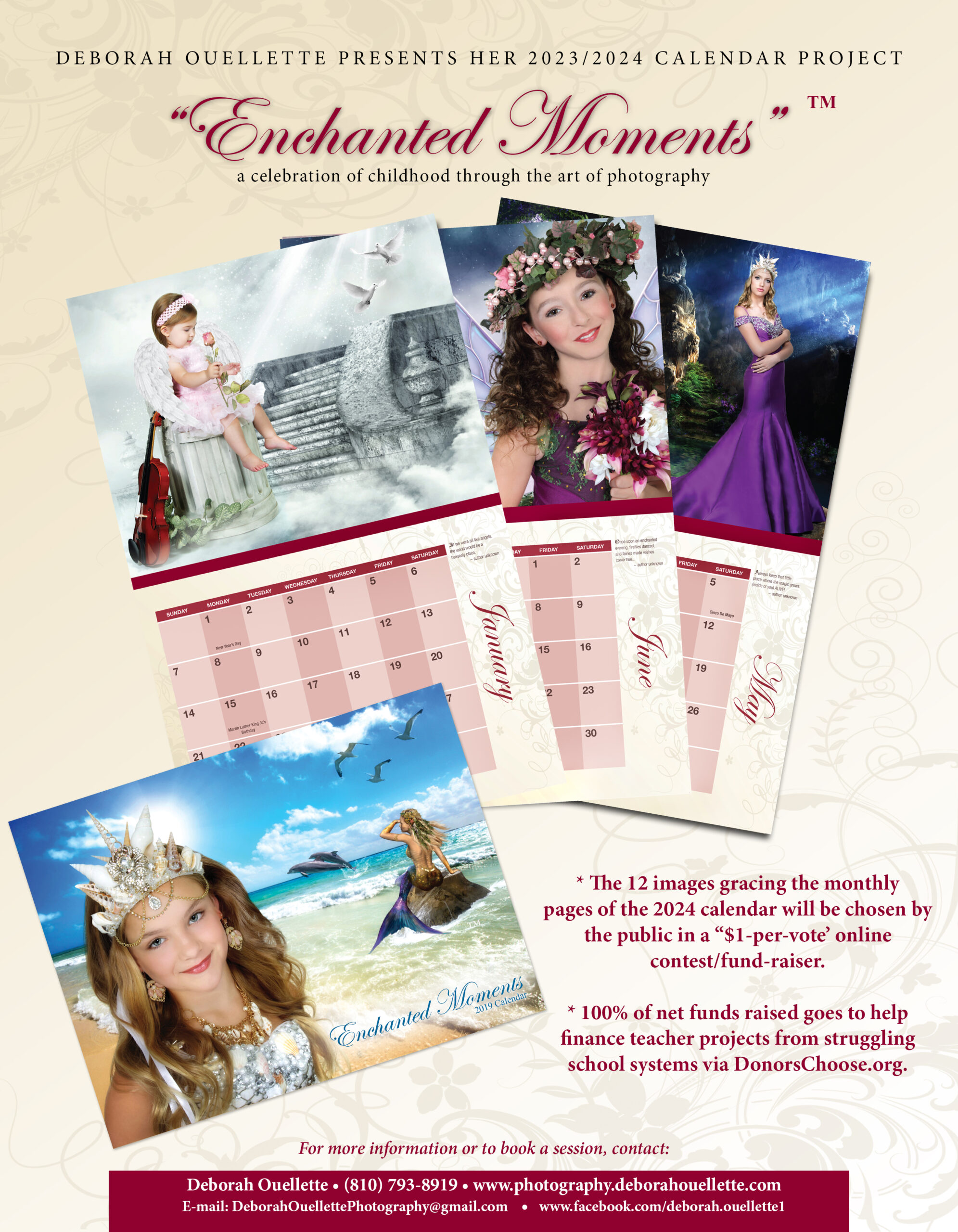 Well Hello!
Do consider sharing this flier with social media friends, family, and with the dance, modeling, and pageant community (email Deb at deborahouellettephotography@gmail.com for a high quality jpeg that you can print and post at work, church, local businesses, dance/modeling schools, etc.).
We have a lot of work to do in less than 3 months (all originals for the 2024/25 calendar project must be shot no later than June 30, 2024 to allow time to do all the post production work in preparation for the contest/fundraiser and — once we know the 12 children/images winning a spot in the 2019 calendar — tweaking images and design work for the printer).
Check the blog (and my FaceBook page at https://www.facebook.com/deborah.ouellette1) for info/image updates and all things calendar project.
Email:  DeborahOuellettePhotography@gmail.com for more info or to book a session.
Be SURE to put something in the subject line so I know it's ok to open and respond. I don't open or answer email that doesn't have a subject line that let's me know it's legitmate business (and not a virus or worse). Thanks for understanding.
Dance/Modeling/Pageant coaches/directors: Email to get a copy of my special session fees for your students who come to the Otter Lake home studio to shoot a theme portrait for the calendar project.
Okay, that should hold you all for now.
Questions: Email or text me at (810) 793-8919. I am a night owl so, especially for a 1st contact, I suggest you text or zap over an email (don't forget to fill out the subject line)
Do visit the blog regularly — especially once we get closer to the contest launch date.
Looking forward to creating some lovely images for this year's calendar project.
Have fun selecting costume pieces and themes.
I'd be happy to help if you need suggestions or input on looks/pieces you're considering.
Have a good one!
Deb